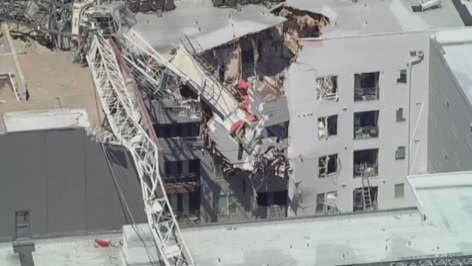 Crane Collapses on Dallas Apartment, 1 Dead
A crane collapsed onto an apartment building in storm-struck northern Texas on Sunday afternoon, 9 June, killing one person and injuring six others.
According to Jason Evans, spokesman for the Dallas Fire-Rescue, the crane – which was situated at a construction site in downtown Dallas – crashed onto the Elan City Lights apartment complex next to the site.
Evans explained that first responders started searching the east side of the building. Inside one of the apartments, a woman was found and later pronounced dead.
Three injured persons were reportedly taken to Baylor University Medical Centre for treatment, while three others were taken to Parkland Memorial Hospital.
Firefighters have searched the rest of the building for any people and pets who may have been trapped inside the apartments. They also helped to evacuate the residents, who have since been temporarily moved to hotels.
So far, says Evans, there have been no reports of missing people.
It is unclear what caused the crane to collapse. However, it can likely be attributed to recent severe storms which have caused power outages and knocked down about 200 trees in the area.
Image Credit: Source