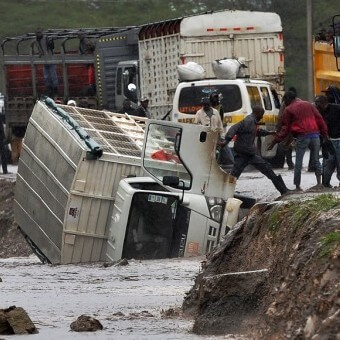 112 Dead in Kenya Floods
Weeks of torrential rain has triggered flooding in Kenya, leaving 112 people dead and displacing thousands of others over the last two months.
According to the Kenyan Red Cross, nearly 28177 households have been displaced, meaning that 260 000 people have been forced to flee from their homes, and the death toll is expected to rise.
Authorities and humanitarian organisations have been working together to rescue stranded residents and bring them to safety. They have also been providing aid to communities which have been isolated by the weeks of rain and resulting landslides.
Kenya Red Cross Secretary General, Abbas Gullet, has appealed for $5 million in aid to help those affected in 32 counties.
The flooding has raised concerns of a possible health crisis, with experts fearing a malaria or cholera.
A number of water sources have been contaminated, while key infrastructure and dozens of health centres have been destroyed.
The disaster comes after three failed rainy seasons inflicted a crippling drought on the region that sent food prices soaring and left more than three million people needing food aid.
Image: A man is assisted off a truck washed off the road [online image] (2018) sourced on 4 May 2018 from https://images.enca.com/encadrupal/styles/600_383/s3/web_photo_Kenya_floods_04052018.jpg