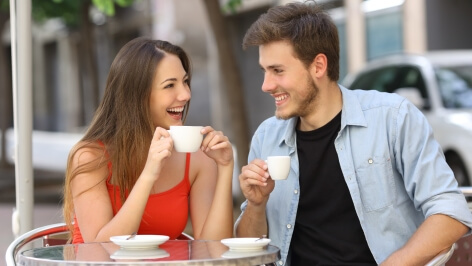 4 Tips for a Successful First Date
Are you feeling weak at the knees? Got butterflies in your stomach? Perhaps your palms are sweating up a storm? If you answered 'yes' to any (or all) of these questions, then you must be fretting about a first date.
Going on a date can be nerve-wracking, especially when it's the very first one. The thought of embarrassing yourself in front of your date and ruining what could have been a good time is enough to send your jitters into overdrive.
Don't panic – if you follow these four tips, the first date is sure to go smoothly (and perhaps lead to another):
Keep The Date Location Simple
Going to a fancy restaurant for the first date sounds romantic, but it might not be worth it if you find out halfway through the main course that your date isn't the one.
Instead, take them to a low-key location such as a cafe. The casual ambience will not only be calming, but it also allows for relaxed, easy conversations to ensue.
Conversation is Key
From simple compliments to ice-breaking questions – for example, asking about their greatest accomplishments or finding out what you two have in common – preparing conversation topics, politely listening to your date and responding appropriately ensures that there aren't any awkward pauses.
Make a First Impression with Your Outfit
Dress appropriately for the occasion – it's a bit awkward showing up to a cafe in the tuxedo that you only wear for family weddings. Also, remember to stay true to your personal sense of style.
Be Yourself
Don't pretend to be someone you're not. Rather, allow your date to see the real you. By letting your authenticity shine through, your chances of making a strong – and hopefully long-lasting – connection with your date becomes greater.