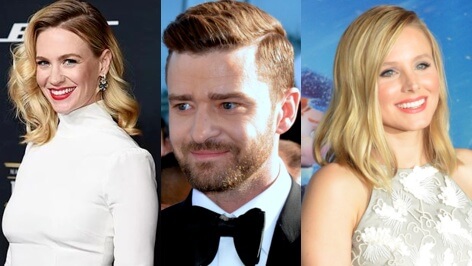 6 Stars that You Didn't Know Dated Each Other
Before they graced the silver screen, celebrities led relatively normal lives. Taking trips to the supermarket and working nine-to-five jobs were just some of the things they used to do.
As for dating, they even went out on regular dates with regular people. In fact, a few of these soon-to-be stars were going out with each other before they became famous. Of course, not all of these romances worked out.

Take a look at the celebs who dated each other before they hit the big time:

Ashton Kutcher and January Jones

Before finding fame on "X-Men: First Class", Jones dated fellow actor, Ashton Kutcher. They dated from 1998 to 2001, around the time Kutcher became a household name for acting in "That '70s Show".
When asked about her past relationship with Kutcher in an interview in 2009, Jones said that he wasn't a great boyfriend and that he constantly put down her acting abilities.

Matthew Morrison and Kristen Bell

While attending New York University in 2001, Morrison and Bell briefly dated. Bell went on to achieve fame after starring in the TV show, "Veronica Mars". Morrison later gained the breakout role of Will Schuester on the popular TV show, "Glee".

Justin Timberlake and Fergie

Back in 1997 – the same year that NSYNC released their debut album – Timberlake, 16, had a fling with future Black Eyed Peas frontwoman, Fergie, then aged 23. According to Fergie, it was way before Timberlake "got real heavy" with Britney Spears.
Image: January Jones. [online image] (2018) sourced on 12 November 2018 from: https://imagesvc.timeincapp.com/v3/mm/image?url=http%3A%2F%2Fimg2.timeinc.net%2Fpeople%2Fi%2F2016%2Fcbb%2Fblog%2F160523%2Fjanuary-jones-300×400.jpg&w=300&c=sc&poi=face&q=85