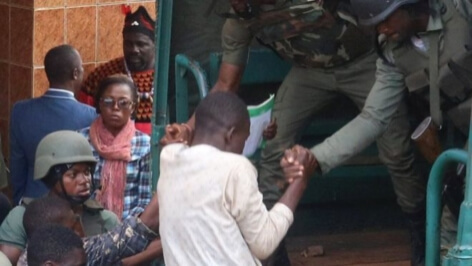 76 Kidnapped Cameroonian Students Freed
Seventy-six children and a driver who were kidnapped from a boarding school in Cameroon's north west region have been released.
The group of 42 girls and 36 boys – along with their principal, a teacher and the driver – were kidnapped on Sunday, 4 November from the Presbyterian Secondary School in Nkwen, a village near the capital of Bamenda.
The kidnapping was orchestrated by a group calling themselves the Amba Boys, a clear reference to the state of Ambazonia that English-speaking separatists are trying to establish in the country.
According to Reverend Fonki Samuel, a Presbyterian Church moderator who is in contact with the kidnappers, the children were abandoned in one of its buildings in the nearby town of Bafut on Wednesday.
He said: "The release was done peacefully … by unidentified gunmen. They were brought into the church premises."
The children were then taken back to the school in army vehicles and reunited with their parents.
Two students – reportedly the children of high-ranking government officials – as well as the principal and the teacher are still being held hostage.
Image: The freed students being helped into a truck by paramilitary force in Bamenda. [online image] (2018) sourced on 8 November 2018 from: https://ichef.bbci.co.uk/news/660/cpsprodpb/11B3/production/_104213540_bamenda22.jpg