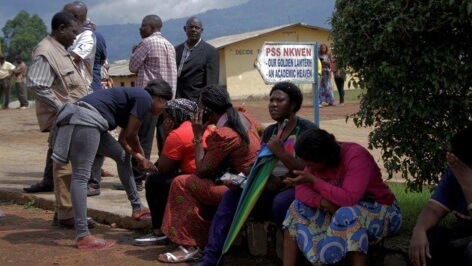 79 Students Kidnapped from Cameroonian School
At least 79 pupils, their principal and a driver have been kidnapped from a boarding school by armed separatists in Cameroon's northwest region.
The kidnapping took place at the Presbyterian Secondary School in Nkwen – a village near the capital of Bamenda – on Sunday, 4 November.
A student, who avoided capture by hiding under a bed, told a media outlet: "[The kidnappers] threatened to shoot some people … all the big boys they rounded up, and the small ones they left behind."
Film footage released on social media shows a group of men, who identify themselves as the Amba Boys, addressing some of the visibly nervous children.
Amba is short for Ambazonia, the name of the independent country that English-speaking separatists want to establish.
One of the kidnappers is heard telling the children: "We shall only release you after the struggle [has ended]."
Regional governor Deben Tchoffo blamed separatist militias for the kidnapping. However, the separatists are accusing the French-speaking government of staging the kidnapping in an attempt to discredit their cause.
Image: Parents await for news of their children at a school where 79 pupils were kidnapped in Bamenda, Cameroon. [online image] (2018) sourced on 7 November 2018 from: https://www.hindustantimes.com/rf/image_size_960x540/HT/p2/2018/11/07/Pictures/parents-kidnapped-bamenda-pupils-school-their-children_5f808488-e25f-11e8-bdc4-2ad11fc65eb2.jpg