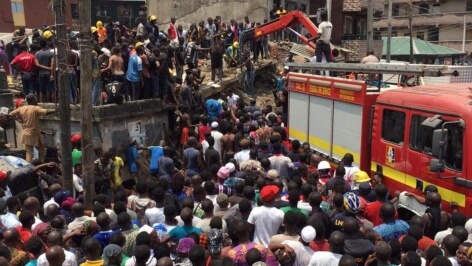 8 People Dead in Nigerian Building Collapse
Eight people have died, and between 67 and 100 are feared to still be trapped, after a school building collapsed in the capital city of Lagos in Nigeria.
According to reports, the three-storey building – which contained a number of residential apartments in addition to the school on the third floor – collapsed on Wednesday morning, 13 March, near Ita-Faji Market on Lagos Island.
Mohamed Muftau, an eyewitness, explained that the building had been cracking for a long time, and that complaints had been raised about it.
Additionally, Lagos building officials said that the structure had been identified as "distressed" and was listed for demolition.
Local residents and passersby began to pull out those trapped in the rubble before emergency rescue officials arrived.
At least 37 were rescued alive from the rubble, but now it has become a frantic race against time to free those who are still trapped.
Image Credit: Source