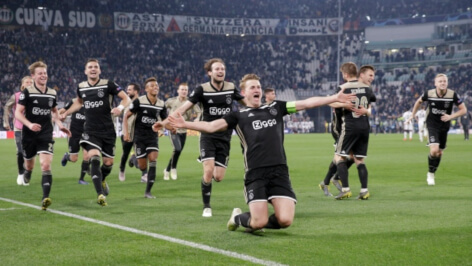 Ajax Devastates Juventus with 2-1 Victory
Ajax Amsterdam sent Juventus crashing out of the UEFA Champions League, after picking up a stunning 2-1 victory in the last eight on Tuesday evening, 16 April.
Fans at the Allianz Stadium in Turin bore witness to the Serie A team's downfall at the hands of Ajax, who had handed defending champions, Real Madrid, a 4-1 loss in the last round.
Juventus star, Cristiano Ronaldo, gave his team the lead by netting a header in the 28th minute. However, Ajax's Donny van de Beek levelled the score six minutes later.
By the second half, Ajax was dominating the action. Ultimately, they brought home the win after 19-year-old skipper, Matthijs de Ligt, headed a goal from the corner in the 67th minute.
In a post-match interview, Van de Beek commented on the win: "This is huge. No one will forget this night."
In another interview, a confident De Ligt remarked: "We are not afraid of anyone."
As a result of their win, Ajax have advanced to the semi-finals of the competition for the first time since 1997.
Image Credit: Source