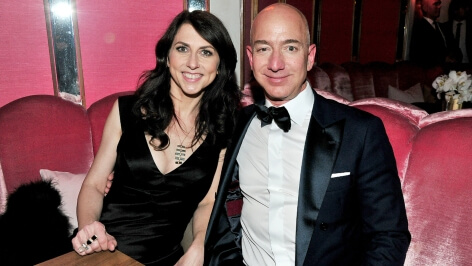 Amazon Billionaire Jeff Bezos Files for Divorce
Amazon CEO and founder, Jeff Bezos, and his wife of 25 years, MacKenzie Tuttle, are getting divorced.
In a joint statement posted to his Twitter account on Wednesday, 09 January, the 54-year-old billionaire confirmed that he and Tuttle had called it quits on their marriage after a long period of separation.
The statement reads: "We feel incredibly lucky to have found each other and deeply grateful for every one of the years we have been married to each other. If we had known [that] we would separate after 25 years, we would do it all again."
The pair first met in 1992 and were married a year later. Together, they share four children. As of writing, Bezos has been romantically linked with television news anchor, Lauren Sanchez.
According to reports, Tuttle would be worth more than $68 billion if she received half of Bezos' estimated $136.2 billion net worth per the state of Washington's divorce laws, thus making her the fifth-richest woman in the world.
Image: MacKenzie Tuttle and Jeff Bezos. [online image] (2019) sourced on 10 January 2019 from: https://peopledotcom.files.wordpress.com/2017/07/mackenzie-bezos.jpg