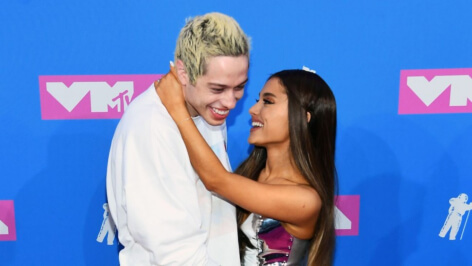 Ariana Grande Blasts Pete Davidson over Engagement Jokes
Ariana Grande has seemingly slammed her ex-fiance, Pete Davidson, after he poked fun at their failed engagement in a "Saturday Night Live" (SNL) promo video.
The "God Is a Woman" hitmaker and the comedian – who began dating in May this year and were engaged a month later – ended their relationship on 15 October.
In the promo video for this week's SNL episode, Davidson jokingly proposes to singer and musical guest, Maggie Rogers, who quickly declines. Davidson responds by saying he's "0-3," referring to his failed relationships.
Taking to Twitter on Thursday, Grande appeared to blast the comedian's jokes.
She wrote: "For somebody who claims to hate relevancy u sure love clinging to it huh [sic]."
Grande followed up with the tweet: "Thank u next [sic]."
As further proof of her directing her tweets towards Davidson, Grande also liked and retweeted a fan who wrote: "SNL is about to milk their break-up just like they did with the engagement."
Image: Ariana Grande and Pete Davidson [online image] (2018) sourced on 2 November 2018 from:
https://media1.popsugar-assets.com/files/thumbor/4E4Zd9q_asPRLyr6W4hhrgIewmg/fit-in/1024×1024/filters:format_auto-!!-:strip_icc-!!-/2018/08/24/665/n/1922398/5a36c06e5b801d01036c65.66804693_/i/Pete-Davidson-Quote-About-Ariana-Grande-Auburn-University.jpg