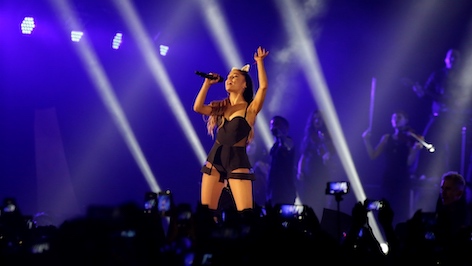 Ariana Grande Fires Back at "Diva" Tag
Some stars handle the "Diva" tag well, while others take the tag head on, and that is exactly what Ariana Grande is doing.
The 26-year-old Grammy winner hit out at the title during an interview with deejay Zane Lowe on "Apple Music" on Wednesday, 13 May.
During the exchange, the "Thank U, Next" hitmaker mentioned that she stopped giving interviews because of how her opinion was twisted to cause backlash, and how a double standard exists between men and women.
Grande said: "If I have an opinion artistically or if I am directing something … it always was in the past kind of manipulated and turned into this negative thing."
She added: "And then, people would be like, 'Oh, she's a diva' … It's like when men express their opinions or defend themselves … they're 'brilliant' and they're 'geniuses'."
Grande says she feels "tired of seeing women silenced by [the 'diva' tag]", but still wanted to "share with people and not be afraid to be myself".