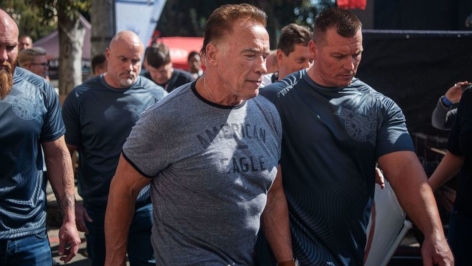 Arnold Schwarzenegger on Attack: I'm Not Pressing Charges
Hollywood actor, Arnold Schwarzenegger, has said he will not be pressing charges against the man who attacked him at a sporting event in Johannesburg, South Africa.
While attending the fourth annual Arnold Classic Africa Multisport Festival and Trade Expo on Saturday, 18 May, the "Terminator" actor was drop-kicked from behind by a man, who has yet to be identified.
In video footage circulating on social media, the assailant is seen delivering a flying kick to Schwarzenegger from behind. While the actor is shown stumbling forward, his attacker falls to the ground and is quickly subdued by a security guard.
The man was later handed over to the police.
Schwarzenegger, who continued to partake in the event's activities, later took to Twitter to confirm that he would not be pressing charges.
He wrote: "A lot of you have asked, but I'm not pressing charges. I hope this was a wake-up call, and [the assailant] gets his life on the right track. But I'm moving on and I'd rather focus on the thousands of great athletes I met."
Image Credit: Source