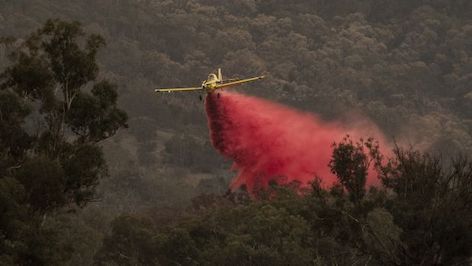 Australian Fires: Canberra Calls Emergency
Australian authorities in the capital city of Canberra have declared a state of emergency as bushfires ravage the countryside.
Andrew Barr, Chief Minister for the Australian Capital Territory (ACT), said that the environmental danger has proven such a great challenge that the first state of emergency was deemed necessary.
He said: "The combination of extreme heat, wind and dry landscape will place suburbs in Canberra's south at risk in the coming days. This fire may become very unpredictable, it may become uncontrollable."
The state of emergency is expected to run for 72 hours, giving authorities greater powers over evacuations, closing roads and taking over private property to ensure public safety.
Weather experts predict temperatures above 41 degrees Celsius over the weekend, with strong winds blowing towards the south east.
The country is currently battling to contain the growing flames which have claimed the lives of 33 people, and over 1 billion animals have been affected since September; close to 2 500 homes have burnt down, and 11 million hectares of land have been scorched.
Image Credit: Source