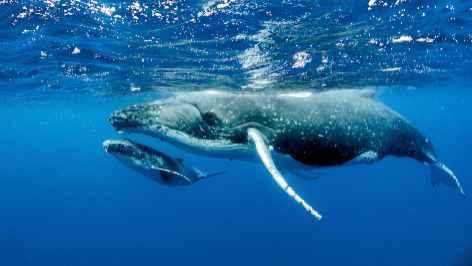 Australian Man Fined for Freeing Trapped Whale
A man in Australia has been fined for freeing a whale calf that had been trapped in shark control nets off the Gold Coast, Queensland.
According to reports, the trapped calf was spotted early on Tuesday morning, 18 May, by a drone operator. A crew from the Department of Agriculture and Fisheries was dispatched to the scene, but they only arrived two hours later.
Minutes before their arrival, a local man – who wished to remain anonymous – drove his boat out to the nets and dove into the water. He then used his knife to cut the flesh-cutting nets, in which the calf's pectoral fin was stuck, and the distressed animal was freed.
When the man returned to shore after the rescue, he was allegedly fined $26 900 by Queensland Fisheries staff members for "tampering with council property".
Fisheries minister, Mark Furner, commented on the incident: "We have unfortunately seen the loss of life when people have themselves become entangled in [these nets]. It will be up to the department to consider whether this gentleman will be prosecuted."
The current condition of the whale calf is unknown.