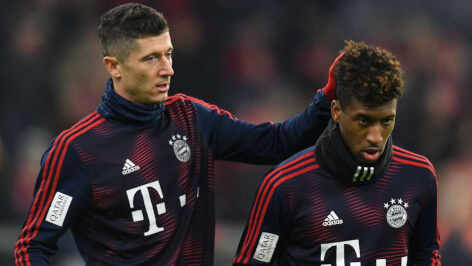 Bayern Munich Stars Brawl at Training Session
Bayern Munich are expected to issue a response after two of its players reportedly came to blows during a training session on Thursday, 11 April.
The players – identified as striker Robert Lewandowski and winger Kingsley Coman – were partaking in a training session at Bayern's Sabener Strasse sports facility in Munich, Germany, when the altercation took place.
According to a local media outlet, Lewandowski had made a comment that supposedly infuriated Coman. After a heated exchange, a fist fight apparently erupted between them.
The fracas prompted teammates Niklas Sule, Jerome Boateng and Franck Ribery to intervene and separate the pair.
Bayern's coach, Niko Kovac, was initially going to send both Lewandowski and Coman to the changing rooms. However, he changed his mind and allowed them to resume training.
Kovac's decision was said to have surprised the rest of the squad.
No doubt the fracas has struck a sour note for the reigning Bundesliga champions, who pulled off a spectacular 5-0 win over Borussia Dortmund last Saturday, 6 April.
Image Credit: Source