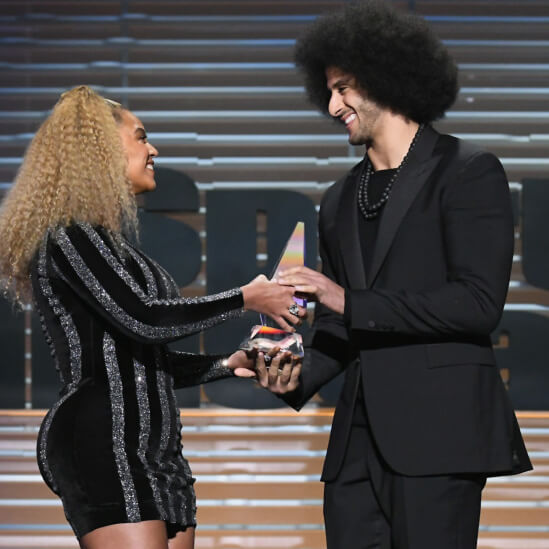 Beyonce Surprises Colin Kaepernick
Beyonce has made her support for National Football League star Colin Kaepernick known.
The 36-year-old Grammy award winner surprised fans and Kaepernick alike by making an appearance at last night's Sports Illustrated Sportsman of the Year Ceremony.
The singer presented Kaepernick with the Muhammad Ali Legacy Award, which is given annually to an athlete who uses sport as a platform for social change.
Kaepernick sparked controversy in 2016 by kneeling during the American national anthem before a football game, in order to protest police brutality against people of colour in America.
Kaepernick soon became highly polarising as many prominent public figures either expressed support for him or anger over his actions. US President Donald Trump is one of his detractors, saying that his behaviour "disrespects the flag".
The controversial 30-year-old football player found himself without a team to play for in the 2017 league.
Before handing over the award, Beyonce thanked Kaepernick for his "selfless heart", his "conviction" and his "personal sacrifice".
She added: "Colin took action with no fear of consequence or repercussion, only hope to change the world for the better. To change perception, to change the way we treat each other, especially people of colour."
Kaepernick, who looked visibly star-struck, said that he accepts the award not for himself, but "on behalf of the people".
When it was announced that Kaepernick had been chosen for the Legacy Award, Muhammad Ali's widow, Lonnie Ali, said that she supported the decision.
She said: "Like Muhammad, Colin is a man who stands on his convictions with confidence and courage, undaunted by the personal sacrifices he has had to make to have his message heard."
Image: Beyonce presents Colin Kaepernick with his award [online image] (2017) sourced on 6 December 2017 https://pmcvariety.files.wordpress.com/2017/12/beyonce-colin.jpg?w=1000&h=563&crop=1