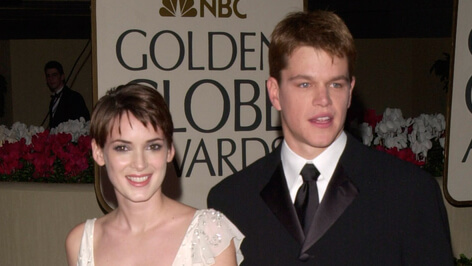 Blast From the Past: Old Celebrity Flames
Celebrities these days hook up, break up, and make up at a blinding rate – and we can hardly keep up! We may know who they're dating now, but who were the hottest couples of the past? Below are some of Hollywood's (almost) forgotten celebrity relationships.
1. Katie Holmes and Chris Klein were the hot couple of 2000.
2. Uma Thurman and Ethan Hawke got married in 1998 but split in 2005.
3. Matt Damon and Winona Ryder hooked up back in the nineties.
4. Cher and Tom Cruise got together in the eighties – she was 39 and he was 23!
5. Sinéad O'Connor and Peter Gabriel were an item in the nineties.
6. Jude Law and Sienna Miller were lovers in the late 2000s – after he dated Sadie Frost, that is.
7. We know about Demi and now Mila, but did you know that Ashton Kutcher and January Jones had a fling in 2000?
8. John Stamos and Paula Abdul hit it up in 1991.
9. Brooke Shields and Liam Neeson dated for a while, but then Neeson dumped her in 1992…on Christmas day! Really Liam, really?
10. And last but not least, Brad Pitt and Thandie Newton were the steamiest couple back in 1994. Seems like Brad is a long time fan of flawless counterparts.