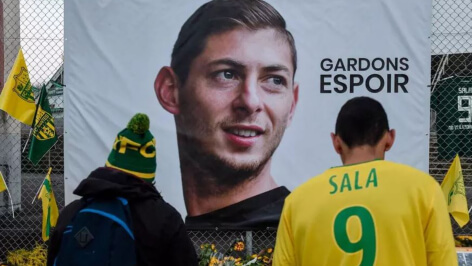 Body of Cardiff City Star Found
The body of missing Cardiff City player, Emiliano Sala, has been found and officially identified.
The 28-year-old Argentine striker – who had just signed with the Premier League outfit – was en route to Cardiff, Wales when the light aircraft he was travelling in disappeared near Guernsey in the English channel on Monday, 21 January.
On Sunday, 3 February, investigators discovered Sala's body in the submerged plane wreckage. Three days later, they managed to recover the body.
The next day, the body was transported to the Isle of Portland in southern England, onboard an offshore supply ship for formal identification.
The body of 59-year-old pilot, David Ibbotson, has yet to be found.
Tributes to Sala have poured in from all over the globe, including one from his sister, Romina.
Taking to Instagram, she uploaded a photo of her brother, with the caption reading: "Our soul in my soul it will shine forever thus illuminating the time of my existence. I love you, tito [sic]."
Image: Fans mourn Emiliano Sala. [online image] (2019) sourced on 9 February 2019 from: https://www.si.com/soccer/2019/01/30/nantes-emiliano-sala-tribute-referee-stop-match-video