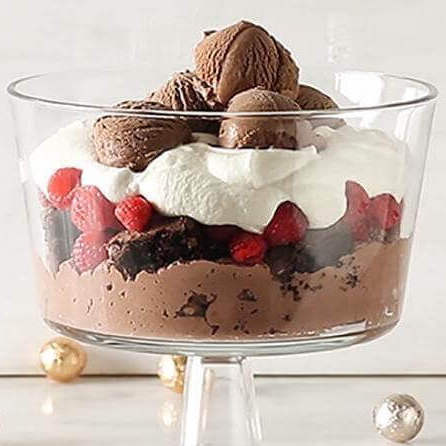 Chocolate brownie trifle
This dessert will melt chocolate lover's hearts. We are talking chocolate brownies, chocolate mousse, and chocolate ice cream in one dish.
Ingredients:
1 litre chocolate mousse
350g chocolate brownie mix
2 cups of raspberries
250g whipped cream
1 litre chocolate ice cream
1 cup of cherries, to garnish
Method:
1. Bake the chocolate brownies according to the brownie mix packet instructions.
2. Cut the brownies into 3 cm small squares.
3. Add the chocolate mousse to a glass bowl as a base layer.
4. Place the brownie squares on top of this base.
5. Sprinkle the raspberries over the brownies.
6. Use the whipped cream to create another layer.
7. Top with a few scoops of chocolate ice cream.
8. Sprinkle the cherries on top, to garnish.
Serve before the ice cream melts.
Image: Triple chocolate brownie.jpg [online image] (2018) sourced on 18 June 2018 from http://www.picknpay.co.za/picknpay/action/media/downloadFile?media_fileid=75395&a=597&s=720×452