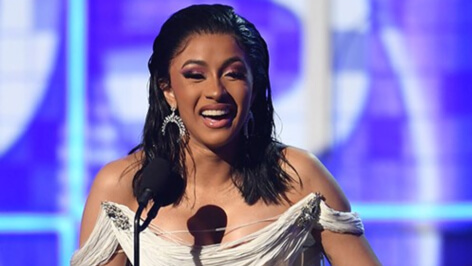 Cardi B Clinches Best Rap Album Grammy
Cardi B has made history on Sunday, 10 February, by becoming the first solo female rapper to win the Grammy Award for Best Rap Album.
Beating out the likes of Nipsey Hussle, Pusha T, Travis Scott and the late Mac Miller, the "Bodak Yellow" hitmaker – who was nominated for five Grammy Awards – clinched the award for her debut album, "Invasion of Privacy".
Accompanied by her husband and fellow rapper, Offset, an emotional Cardi B thanked her fans and everyone involved in the making of her album. She also thanked her daughter, Kulture, who was born shortly in July last year, just three months after the album was released.
Later, in a backstage video posted to Instagram, Cardi B paid tribute to Miller.
She said: "I read an article that Mac Miller's family said that if he don't win, they wanted me to win, so I'm sharing this Grammy with you … rest in peace!"
Image: Cardi B and Offset, February 2019. [online image] (2019) sourced on 11 February 2019 from: https://media.pitchfork.com/photos/5c60f5f00afcfe56e91c2fe5/2:1/w_790/Cardi-B-Offset.jpg