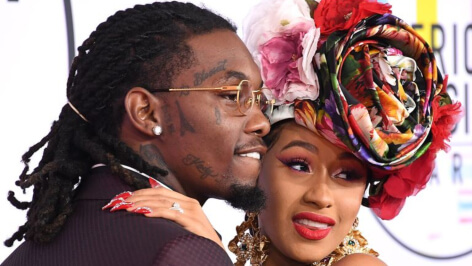 Cardi B on Offset: We're Working Things Out
Cardi B has confirmed that she is working on her relationship with estranged husband, rapper Offset.
The "Bodak Yellow" hitmaker and the Migos rapper secretly tied the knot in September 2017, but they separated after only one year of marriage after rumours emerged that Offset was cheating on Cardi B with another woman.
Tabloid news site, TMZ, reported yesterday that the estranged couple had reconciled and were going back to living together in the house they shared in Atlanta, Georgia.
Offset was also said to have changed his phone number and created a "no groupies" rule at Cardi B's behest.
However, after her assault case was adjourned, Cardi B denied she was back together with "Ric Flair Drip" hitmaker.
In response to reporters' questions about Offset as she left the courthouse in Queens, New York, she answered: "We're working things out, baby."
The "I Like It" rapper also clapped back at the rumours in a now-deleted tweet: "TMZ why ya be lying. I haven't even been in Atl since Christmas [sic]."
Image: Cardi B and Offset arrive at the 2018 American Music Awards. [online image] (2019) sourced on 01 February 2018 from: https://hips.hearstapps.com/hmg-prod.s3.amazonaws.com/images/cardi-b-offset-arrives-at-the-2018-american-music-awards-at-news-photo-1051840126-1539545670.jpg?crop=1.00xw:1.00xh;0,0&resize=768:*