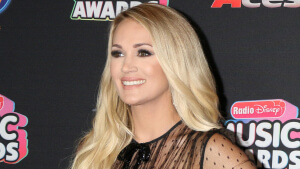 Carrie Underwood Denies Plastic Surgery Rumours
Seven-time Grammy-winning country megastar, Carrie Underwood, has laughed off rumours that she has had plastic surgery.
Last year, the 35-year-old suffered a freak accident at home that resulted in approximately 50 stitches in her face as well as surgery for a broken wrist.
According to Underwood, at first she was very anxious about how the injury to her face may leave permanent damage, because "at the beginning it looked very bad."
The scar from her accident is now barely noticeable.
The singer stayed out of the public eye as she recovered from her accident, which led to speculation that she was having plastic surgery done.
Underwood has responded to her critics by saying: "I wish I'd gotten some awesome plastic surgery to make this [scar] look better. But I try not to worry too much about it."