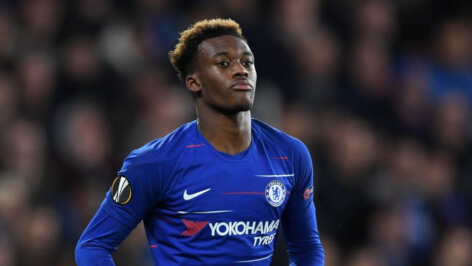 Chelsea's Hudson-Odoi Out with Injury
Chelsea winger, Callum Hudson-Odoi, is set to miss the rest of the Premier League season, after he ruptured his Achilles tendon during the club's match against Burnley on Monday evening, 22 April.
The 18-year-old Englishman sustained the injury in the 41st minute. Helped by two members of the Blues' medical staff, he was carried around the touchline before leaving the stadium on crutches after the match.
Chelsea went on to draw 2-2 with Burnley. As a result, the Blues have moved into the top four of the Premier League table, behind Liverpool, Manchester United and Tottenham.
Hudson-Odoi later tweeted: "Really gutted to end my season with an Ruptured [sic] Achilles, gotta work hard and try and come back stronger for next season!!! [sic]"
Due to the injury, the winger will also miss Chelsea's final three league games of the season. These include the Europa League semi-final against Eintracht Frankfurt on 2 May, and a qualifying match on an unspecified date for next season's UEFA Champions League.
Image Credit: Source