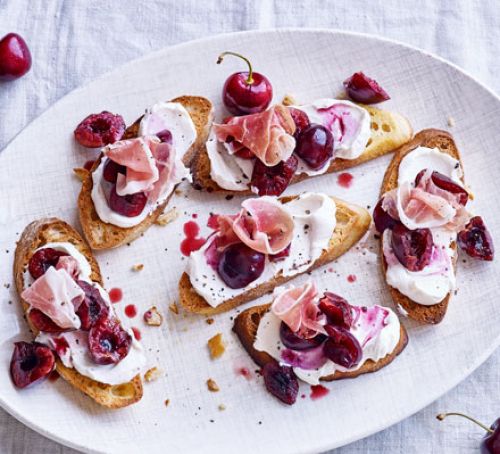 Cherry and Ham Bruschetta
Cherry bruschetta is a sweet yet savoury, crispy snack, and the perfect starter dish for any occasion. This recipe will make 12 bruschettas.
Ingredients:
1 loaf ciabatta
½ cup extra virgin olive oil
100g cream cheese
12 cherries
80g Parma ham
Salt and pepper, to season
Method:
1. Preheat the oven to 180 degrees Celsius.
2. Cut the ciabatta into 12 slices, approximately 2 ½ cm thick
3. Apply a little extra virgin olive oil to the top of each slice. Bake the ciabatta until it's golden, or for approximately 5 to 10 minutes.
4. Spread the cream cheese on the top surface of each slice.
5. Pit and cut the cherries into halves, then sprinkle them on top of the ciabatta.
6. Cut the Parma ham into small pieces and place on top of each ciabatta slice.
7. Season with salt and pepper to taste, then serve.
Image: Cherry Bruschettas.jpg [online image] (2016) sourced on 10 May 2018 from https://www.bbcgoodfood.com/sites/default/files/styles/recipe/public/recipe/recipe-image/2016/06/cherry-bruschettas.jpg?itok=BHMj3ngZ