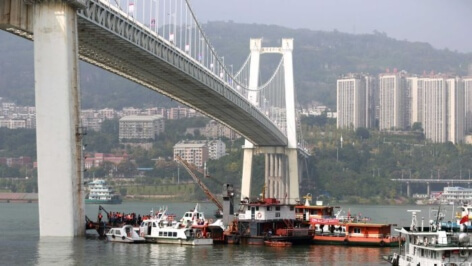 China: Cause of Deadly Bus Crash Due to Fight
Onboard security footage has revealed that a physical altercation between a bus driver and a female passenger led a bus to plunge off a bridge in China.
According to media reports, the bus plunged 50 metres off a bridge into the Yangtze River in Chongqing's Wanzhou District last Sunday, 28 October. Thirteen passengers were killed, while two remain unaccounted for.
After salvaging the wrecked vehicle on Wednesday evening, divers managed to recover its black box, which contained footage of the fight between the passenger and the driver.
In the video, the passenger – identified as a 48-year-old woman with the surname Liu – is seen hitting the driver, named Ran, with her mobile phone after he missed her stop and refused to let her off.
Ran, who fought back with Liu, proceeded to lose control of the vehicle, which veered into the other lane before crashing through a safety barrier and into the river.
Social media widely blamed Liu for the crash, although some have also criticised Ran for his poor reaction.
Image: The bus sank around 80 metres underwater. [online image] (2018) sourced on 2 November 2018 from: https://www.abc.net.au/cm/rimage/10439548-16×9-large.jpg?v=2