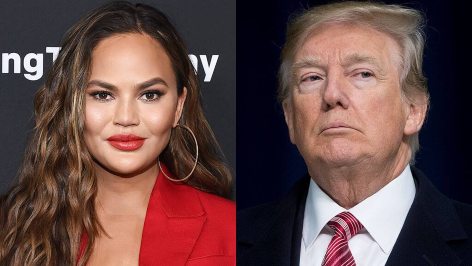 Chrissy Teigen Drags Donald Trump on Twitter
Chrissy Teigen has slammed US President Donald Trump, after he referred to the model as a "filthy mouthed [sic] wife".
It all started when singer John Legend – who is also Teigen's husband – appeared in a recent MSNBC television special, in which he commented on criminal justice reform.
Taking to Twitter on Sunday, 8 September, Trump attacked Legend and his wife in a series of tweets: "Guys like boring musician [Legend], and his filthy mouthed [sic] wife are talking now about how great [criminal justice reform] is – but I didn't see them around when we needed help getting it passed."
In response, Teigen put the president on blast with a profanity-laced tweet the following day.
In a separate tweet, she added: "The absolute best part of [Trump's] tweet is I literally didn't speak in the special, nor was I mentioned. I'm cackling at the pointless addition of me [in his tweet]."
Many fans and celebs – such as 50 Cent and George Takei – took Teigen's side of the twar. Even Legend called out Trump: "Imagine being president of a whole country and spending your Sunday night hate-watching MSNBC, hoping somebody – ANYBODY – will praise you."
Image Credit: Source