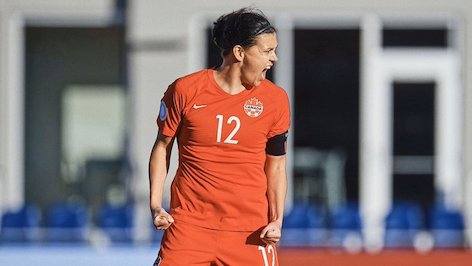 Christine Sinclair Smashes Most International Goals Record
Canadian soccer player, Christine Sinclair, scored her 186th international goal last night, Tuesday 5 February, cementing her claim to the title of most international goals for both men and women.
The 36-year-old forward first broke the all-time record during their 11-0 thrashing of Saint Kitts and Nevis on 30 January, for the Confederation of North, Central American and Caribbean Association Football (CONCACAF) tournament.
Sinclair took to Twitter afterwards to share the monumental achievement: "Thank you to EVERYONE [sic] for all the messages … I'm slightly overwhelmed. Thank you to all my teammates, coaches, staff, friends and family.185 would not have been possible without you [sic]."
She went on to chalk up yet another goal – her 186th – when her team took on Mexico and won 2-0 to qualify for the summer Olympics in Tokyo later this year.
Canada has won the CONCACAF Women's Gold Cup twice, and scored two Olympic bronze medals from London 2012.
Image Credit: Source