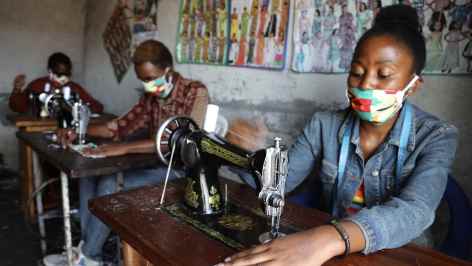 COVID-19: African Tailors Hard at Work to Create Face Masks
A non-profit, humanitarian venture is doing its part to help African nations halt the spread of the coronavirus by providing them with reusable face masks.
Established last month by health worker Emilie Serralta, African Masks are working to create and distribute cloth masks to help impoverished, populated communities protect themselves against the virus.
Using colourful, African-inspired fabric, local tailors in Goma – which is located in the Democratic Republic of Congo's North Kivu province – have made approximately 7 000 masks for people living in those areas.
These masks have also been distributed to neighbouring countries such as Benin, Kenya, Nigeria and Senegal.
Serralta said: "Cloth masks are a fairly inexpensive and a useful tool against contagion; however, many people cannot afford masks as economies have almost stopped. I hope masks can play a role in an alternative to complete lockdown, which is unsustainable in developing countries."
African Masks rely on crowdfunding to pay tailors for producing these masks, which will go a long way in protecting vulnerable wearers from the virus.
Image Credit: Source