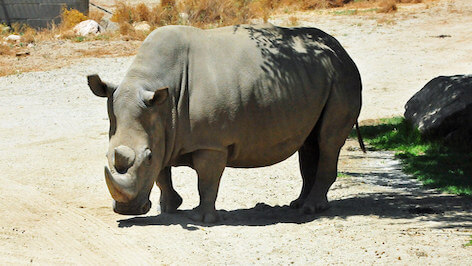 Created Embryos Offer Hope For Northern White Rhinos
Scientists from the Leibniz Institute for Zoo and Wildlife Research (IZW) announced yesterday, 11 September, that they have made two viable embryos from the near-extinct northern white rhino.
The IZW researchers were able to successfully fertilize the embryos in a lab via in vitro fertilisation with frozen material from the last male, which died in Sudan last year. They hope to transfer the eggs into a southern white rhino surrogate mother in the near future.
The development marks a critical turning point for the species as only two remain worldwide – Fatu and Najin, both female – at the Ol Pejeta Conservancy in Kenya.
Thomas Hildebrandt, an IZW researcher, said: "Today we achieved an important milestone on a rocky road which allows us to plan the future steps in the rescue program of the northern white rhino."
Years of illegal poaching have reduced the number of rhino species as the animals are killed for their horns, which are typically made into carved ornaments and used in Chinese medicine for their supposed healing properties.