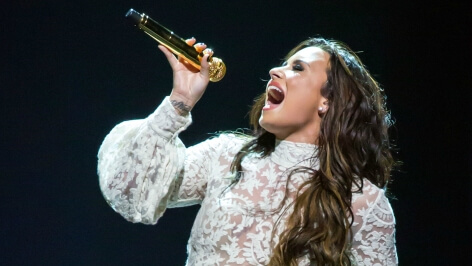 Demi Lovato is 90-Days Sober after Overdose
Demi Lovato is celebrating 90 days of sobriety, three months after overdosing in July this year, her mother has confirmed.
The 26-year-old singer was hospitalised at Cedars-Sinai Medical Centre in Los Angeles on 24 July, after apparently overdosing on opioids at her Hollywood Hills home. Leaving the hospital two weeks later, she then entered rehab to receive treatment for drug addiction.
In a podcast interview, Lovato's mother, Diana De La Garza, revealed that the "Skyscraper" singer is recovering well.
De La Garza said: "[Demi] has [been sober for] 90 days, and I couldn't be more thankful or more proud of her because addiction, being a disease, is work. It's very hard and there are no shortcuts."
When asked what triggered Lovato's relapse, her mother replied that she was not sure. Nevertheless, De La Garza is proud of her daughter's progress.
She said: "[Demi's] happy. She's healthy. She's working on her sobriety, and she's getting the help she needs."