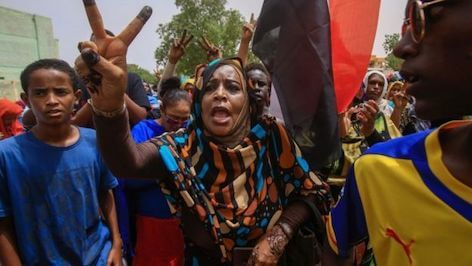 Democratic Sudan in Sight
Sudanese pro-democracy groups and the Transitional Military Council (TMC) have agreed to a power-sharing deal, including a timetable that will see general elections within three years.
Mohamed Hassan Lebatt, African Union mediator, said on Friday, 5 July, that the two sides have agreed to "establish a sovereign council by rotation between the military and civilians for a period of three years, or slightly more."
General Mohamed Hamdan Dagalo, deputy head of the TMC, said: "This agreement will be comprehensive and will not exclude anyone. We thank the African [Union] and Ethiopian mediators for their efforts and patience."
Previous attempts at negotiations fell through when dozens were killed after security forces raided a protest camp on Wednesday, 3 June.
Sudan has been in an upheaval since the military unseated former President Omar al-Bashir in a coup in late April.
Over 250 people have been killed in clashes since opposition to al-Bashir's rule gained momentum in December last year.
Image Credit: Source