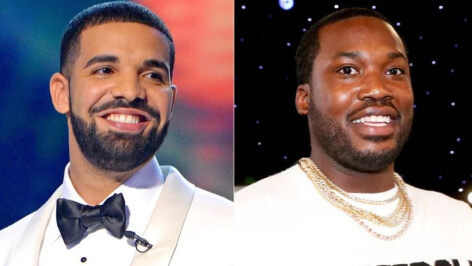 Drake and Meek Mill's Feud is Over
Drake and Meek Mill have officially put an end to their three-year feud.
Their rivalry dates back to June 2015, when Mill accused Drizzy of hiring ghostwriters to write the "In My Feelings" hitmaker's lyrics. Since then, both rappers had been trading insults, threats and diss tracks.
However, the duo have seemingly put aside their differences. While performing at a concert on Saturday in Boston, Drake invited Mill onstage to perform Mill's song, "Dreams and Nightmares".
They were later spotted playing ping pong together after the concert.
Drizzy uploaded a photo to his Instagram account, which shows the duo shaking hands and smiling together onstage.
In the caption, he wrote: "This really gave me peace of mind tonight. Healing and moving forward created one of the most electric and gratifying moments of my career. [Mill], I'm happy that you are home and that we could find our way back to our joint purpose."
Image: Drake; Meek Mill [online image] (2018) sourced on 11 September 2018 from
https://imagesvc.timeincapp.com/v3/mm/image?url=https%3A%2F%2Fpeopledotcom.files.wordpress.com%2F2018%2F09%2Fdrake.jpg%3Fw%3D2000&w=800&q=85