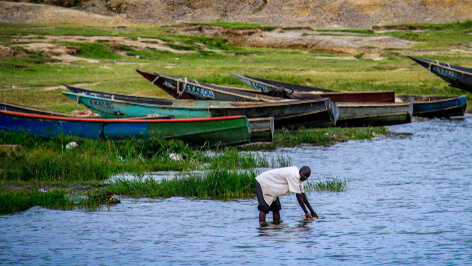 DRC Accuse Ugandan Soldiers of Killing Fishermen
The Democratic Republic of Congo's navy has accused Ugandan soldiers of killing four Congolese fishermen, whose bound and bullet-riddled bodies surfaced on Tuesday at Lake Edward.
The lake is shared by the two neighbouring countries, who are at loggerheads over the sharing of resources.
Jonas Kataliko, who heads the fishermen's association in the lakeside village of Kyavinyonge, said: "The fishermen had been on the lake since Friday and had not returned. [On Tuesday] we saw their burnt and tied up bodies floating in the lake."
Major Jean Tsongo, who heads the Congolese naval forces in the area, claims that Ugandan soldiers were involved in the fishermen's deaths.
However, Lieutenant Colonel James Nuwagaba, the head of Uganda's fisheries protection force, has denied the accusations.
He said: "[Their deaths] could be a cover-up for Congolese fishermen to continue crossing to our side of the water to steal our fish. We suspect the fishermen could have died as a result of fighting amongst themselves."