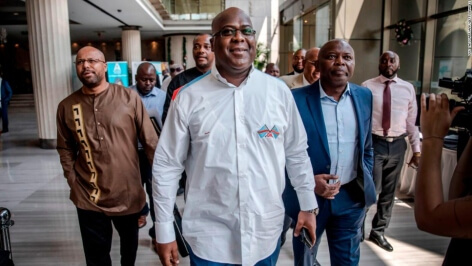 DRC Elects Felix Tshisekedi as President
In the first peaceful, democratic transfer of power since independence in 1960, the Democratic Republic of the Congo has elected opposition leader, Felix Tshisekedi, as the country's president.
Receiving more than seven million votes, (38%), Tshisekedi – who leads the Union for Democracy and Social Progress – was declared the winner of the long-delayed presidential election by the electoral commission early on Thursday morning, 10 January.
Per media reports, the election had been delayed for more than two years, as many Congolese were worried that Joseph Kabila – who has been president of the oil-rich nation since 2001 – would try to stay in power.
Opposition candidate, Martin Fayulu, who received more than six million votes (34%), is contesting the results.
Fayulu said: "These results have nothing to do with the truth at the ballot box. It's a real electoral coup, it's incomprehensible."
The constitutional court has approximately 14 days to validate the results before Tshisekedi can be formally inaugurated as the country's president.
Image: Felix Tshisekedi. [online image] (2019) sourced on 10 January 2019 from: https://cdn.cnn.com/cnnnext/dam/assets/190110102618-felix-tshisekedi-super-tease.jpg