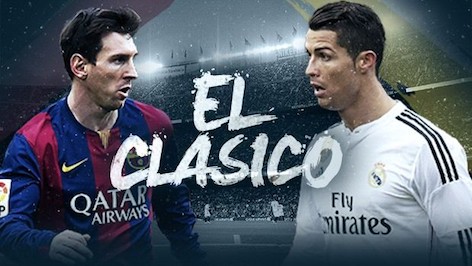 El Clasico: Ronaldo vs Messi
El Clasico is one of the most fierce and eagerly anticipated football derbies in the world. It's the rivalry between Barcelona and Real Madrid.
Whenever these two team clash, it's always a thrill to see Lionel Messi going toe-to-toe with Cristiano Ronaldo on the pitch.
However, Ronaldo's move to Juventus during the 2018 summer transfer window, changed the highlight.
Nevertheless, both players held the battle line for a decade.
Take a look at the following stats and discover who is the king of Clasico:
Messi:
Made 38 Clasico appearances.
Scored 26 goals.
Won 17 games.
Ronaldo:
Made 30 Clasico appearances
Scored 18 goals.
Won 8 games.
Although Messi comes second to Ronaldo in terms of awards and trophies, statistically, the Argentine is the undisputed king when it comes to El Clasico.
Messi is the all-time scorer and has the most assists recorded in El Clasico history.
Image: Lionel Messi and Cristiano Ronaldo. [online image] (2018) sourced on 13 November 2018 from: https://www.betadvisor.com/blog/wp-content/uploads/2016/03/1118092_heroa-620×350.jpg