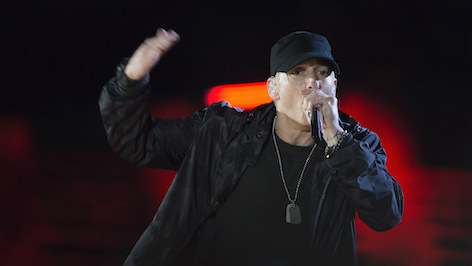 Eminem Sues Spotify
Eminem's music publisher, Eight Mile Style, is taking Spotify to court over alleged copyright infringement.
According to court documents, Spotify "does not have a license to display, reproduce, and/or distribute" the rapper's music due to not "procuring an appropriate license as required".
This includes almost 250 of his songs on its platform, consisting of hits like "The Way I Am", "Stan" and "My Name Is".
In addition to copyright infringement, the publisher further claims that no compensation has been given for the billions of streams of the 46-year-old Detroit rapper's music.
It claims that the worst case is how the track "Lose Yourself" has been streamed over 774.4 million times on Spotify, yet Eminem has not been properly paid for this.
Eight Mile Style intends to sue for over $36 million in damages.
In 2014, Eight Mile Style successfully sued the New Zealand National Party for copyright infringement, when they used a song during that year's campaign that sounded similar to Eminem's 2002 hit, "Lose Yourself".