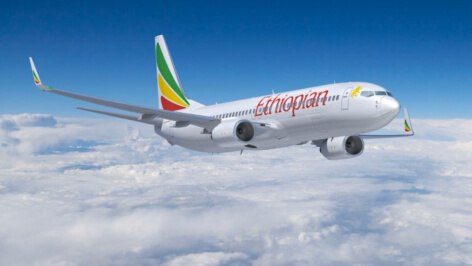 Ethiopia: 157 Die in Horrific Plane Crash
A passenger plane carrying 157 people plunged into a field in Ethiopia on Sunday, 10 March, just six minutes into its flight.
Per reports, Ethiopian Airlines flight ET 302 was scheduled to fly from the capital city, Addis Ababa, to Nairobi, Kenya.
However, according to a statement posted on the airline's official Twitter account, the plane lost communication with the flight controllers at Bole International Airport six minutes after its departure. The pilot, Captain Yared Getachew, apparently issued a distress call prior to losing contact.
The plane crashed into a field in a ball of flames near the village of Tulu Fara outside Bishoftu – 60km outside Addis Ababa – leaving a crater. All 149 passengers and eight crew members were killed.
The aircraft itself has been identified as a Boeing 737 Max 8, the same model as Indonesia's ill-fated Lion Air flight JT610: just 13 minutes after take-off, it crashed into the sea off the Indonesian coast in October last year, killing all 189 people onboard.
An investigation into the crash is currently underway.
Image Credit: Source