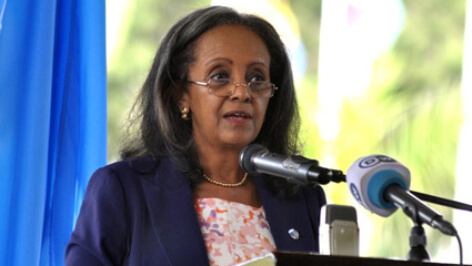 Ethiopia Elects First Female President
Ethiopia's parliament unanimously elected a former diplomat, Sahle-Work Zewde, as the country's first female president on Thursday, 25 October.
Zewde's appointment comes a week after lawmakers approved the landmark decision, spearheaded by reformist Prime Minister Abiy Ahmed, to appoint 50% of Ethiopia's cabinet positions to women.
Prior to her appointment, Zewde served as the United Nations' secretary general's special representative to the African Union. She also previously served as an ambassador to France, Djibouti, Senegal and the regional bloc, the Intergovernmental Authority on Development (IGAD).
She succeeds Mulatu Teshome Wirtu – who tendered his resignation to parliament earlier on Wednesday – in the largely ceremonial post.
In a statement posted on Twitter, the prime minister's chief of staff, Fitsum Arega, applauded Zewde's appointment.
Arega said: "In a patriarchal society such as ours, the appointment of a female head of state not only sets the standard for the future, but also normalises women as decision-makers in public life."
Image: Former director-general of the United Nations Offices in Nairobi Sahle-Work Zewde. [online image] (2018) sourced on 26 October 2018 from: https://mobile.nation.co.ke/image/view/-/4821646/medRes/2150723/-/159kiquz/-/WARONAIDS_PIX.jpg