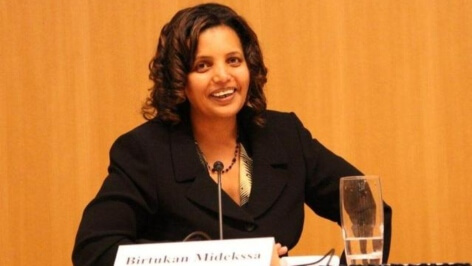 Exiled Ethiopian Leader Returns Home after 7 Years
A prominent Ethiopian opposition leader has returned to the country after spending seven years in exile in the United States of America.
Birtukan Mideksa, a former judge, emerged as an opposition leader at a time when there was total repression against dissent in the country under the leadership of the late prime minister, Meles Zenawi.
In 2005, Mideska was arrested on the charge of instigating protests following that year's controversial elections.
She was released from prison in 2010 and – after her citizenship rights were restricted – immigrated to the United States.
Once there, Mideska studied Public Administration at the Kennedy School of Government at Harvard University.
Under Prime Minister Abiy Ahm's leadership, the Ethiopian government initiated Mideska's return, as her skills are needed in the ongoing reform in the country.
Speaking to a media outlet about her return, an ecstatic Mideska said: "I was not sure as to when I would return and was living with homesickness, which at times is as painful as other suffering."
Image: Birtukan Mideksa is former federal judge, political leader, and prisoner of conscience in Ethiopia. She is a member of Freedom Now's Board of Advisors. [online image] (2018) sourced on 9 November 2018 from: http://www.tadias.com/wp-content/uploads/2012/03/Birtukan-Midekssa-_Tadias-Magazine-cover.jpg