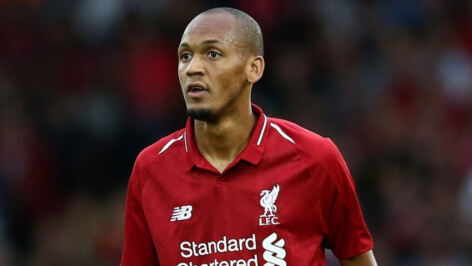 Fabinho "Never Said" He Wants to Leave Liverpool
Liverpool midfielder, Fabinho, insists that he has no intentions of leaving the club to join Paris Saint-Germain, despite a slow start to his career with the Reds.
The 25-year-old Brazilian – who moved from Monaco to Liverpool in July this year for £39 million – has only made six appearances for the Premier League outfit this season.
According to media reports, PSG are monitoring the midfielder's situation with interest, with the intention to sign him either in January or at the end of the current season.
Despite his lack of minutes on the pitch, Fabinho has denied wanting to exit from Jurgen Klopp's side.
Speaking to a Brazilian media outlet, he said: "I have never said that I wanted to leave Liverpool. I was aware that I would need to have patience and wait for my moment. I am happy at Liverpool, I don't have a single reason to leave."
Image: Fabinho. [online image] (2018) sourced on 5 December 2018 from: http://media.culturepsg.com/image/news/fabinho_liverpool.jpg