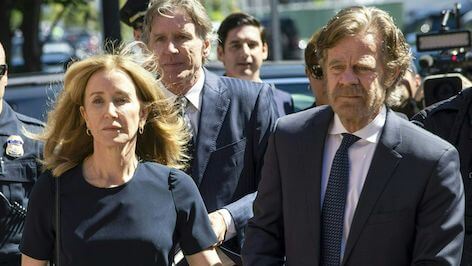 Felicity Huffman Sentenced in College Bribery Scam
Actress Felicity Huffman has been sentenced to 14 days in prison after admitting to her involvement in a major college bribing scheme.
The "Desperate Housewives" star – accompanied by her husband, actor William H. Macy, along with several close friends and family members – appeared at Boston's federal court on Friday, 13 September. She previously pleaded guilty to a single count of conspiracy and fraud in May.
The charges stem from Huffman paying an admissions consultant $15 000 to have her daughter's SAT exam answers corrected to gain entry into a prestigious college in 2017.
US District Judge Indira Talwani also handed down a $30 000 fine, 250 hours of community service and one year of supervised release.
Huffman is the first parent amongst 34 others to be sentenced in the college fraud case.
Federal prosecutors are accusing the individuals of cheating on entrance exams and/or paying bribes of up to $25 million to secure admissions for their children at well-known colleges.
Image Credit: Source