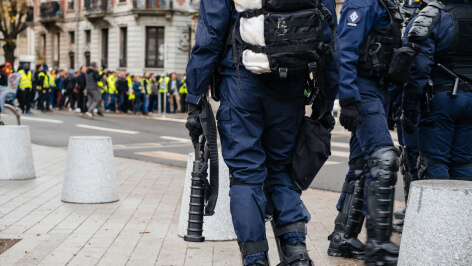 France: Man's Hand Blown Off During Protests
A demonstrator had his hand partially blown off in a stun grenade explosion during clashes between anti-government protesters and riot police in Paris, France.
Across the country, thousands of demonstrators – dubbed "yellow-vest" campaigners – have taken to protest against President Emmanuel Macron's policies. Marked by chaos and violence, the protests have been ongoing for 13 weeks.
A 30-year-old amateur photographer was one among of hundreds of campaigners who tried to storm the National Assembly – the lower house of the French parliament – on Saturday, 9 February, when the explosion occurred.
Cyprien Royer, an eyewitness, explained: "When the cops went to disperse people, he got hit by a [GLI-F4] flash-ball grenade in the calf. He wanted to bat it away so it didn't explode by his leg, and it went off when he touched it."
He added: "We put him to one side and called the street medics … he was screaming with pain, he had no fingers."
The man has since been hospitalised. Meanwhile, officers had arrested 39 people and 21 are being held in custody.