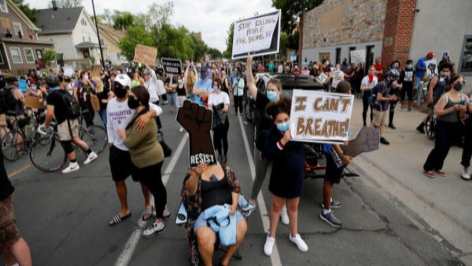 George Floyd: Protests Continue over Police Killing
Protests over the brutal murder of an African American man continue to ripple across the US city of Minneapolis, Minnesota.
On Monday, 25 May, George Floyd was detained on a minor charge of allegedly using a counterfeit $20 bill at a grocery store.
However, in a video clip that has gone viral, the 46-year-old restaurant worker is seen handcuffed and pinned to the ground by three police officers, while a fourth officer kneels on his neck for eight minutes.
Pleading that he was unable to breathe, Floyd fell unconscious and was later declared dead at a local hospital.
Although the four officers were fired, outraged Minneapolis citizens have since embarked on demonstrations consisting mostly of silent protests. However, they have clashed with police officers, who used tear gas and rubber bullets to disperse them.
On Wednesday evening, 27 May, widespread stores looting and multiple fires were reported around the city, along with more clashes with the police.
Minneapolis police chief, Medaria Arradondo, has cautioned protestors to remain peaceful while the Federal Bureau of Investigation looks into Floyd's death.
Image Credit: Source