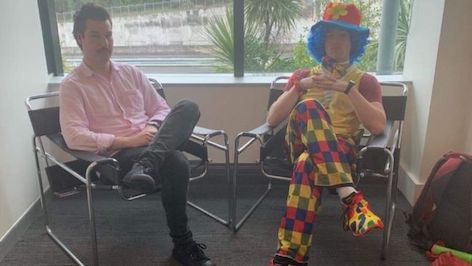 Getting Fired? Send in the Support Clowns!
A New Zealand man knew he would be fired after receiving a telling email from his superiors, so he did the next best thing to liven up the inevitable meeting: he brought in an emotional support clown.
Former copywriter Josh Thompson knew that he was going to be laid off at Auckland advertising agency FCB, when his employer wanted to have a meeting with him regarding his role.
The email mentioned that he could bring along a support person, and so Thompson thought to bring in a professional, and paid $200 to hire Joe the clown.
He was fired, but his former bosses were amused at how he "spiced up the meeting".
The clown – dressed in a colourful hat and yellow bib, with large shoes – mock-cried as the redundancy papers were slid across the table, then created a balloon unicorn and poodle during the discussion.
Thompson's story has a happy ending, as Australian advertising agency DDB hired him shortly after his clown antics made headlines.
Image Credit: Source