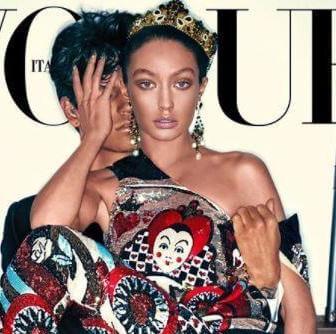 Gigi Hadid Cover Accused of Racism
Gigi Hadid's latest cover for Vogue Italia has sparked controversy and backlash after the magazine was accused of artificially darkening the supermodel's skin.
In the image, shot by well-known photographer Steven Klein, the 23-year-old model appears alongside male model Justin Martin, in a wearing a sequin bodysuit and golden crown by Dolce & Gabbana.
Hadid has been so heavily bronzed, however, that both she and the magazine have been accused of using "blackface" – the practice of using make-up on a non-black performer to make them appear black.
While the use of blackface used to be widespread during years of racial segregation, today it is condemned as highly offensive and a portrayal of prejudicial stereotypes.
Fans have also pointed out that Hadid's face has been so heavily photoshopped that she is unrecognisable.
Hadid at first seemed proud of the cover, and posted it to her Instagram account, saying that she was excited, honoured and grateful.
After the backlash, however, Hadid deleted the post, and has apologised.
She also said: "Please know that things would have been different if my control of the situation was different…I hope this can be an example to other magazines and teams in the future."
Vogue Italia has dismissed the backlash, saying: "Fashion photography, and Vogue Italia's in particular, is an interpretation of reality, not a literal representation of it, and this creative approach applies to the cover of the May issue."
Image: Vogue Italia's May Cover [online image] (2018) sourced on 4 May 2018 from https://www.usmagazine.com/wp-content/uploads/2018/05/nintchdbpict000403205913.jpg