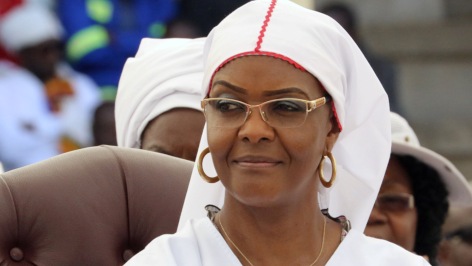 Grace Mugabe Accused of Assaulting Employee
Zimbabwe's former first lady, Grace Mugabe, has been accused of physically assaulting her housekeeper.
According to court documents, Shupikai Chiroodza – who worked at the Mugabes' private Blue Roof mansion in Harare – claims that the attack occurred in March 2017.
Chiroodza explained that Mugabe accused her of "milking" then president Robert Mugabe by accepting a wedding gift.
She said: "[Grace Mugabe] started beating me with clenched fists, shouting, 'Who do you think you are? You are milking my husband behind my back.' I did not utter a word as I was terrified. She removed her shoe and continued assaulting me with it, and blood started gushing out of my forehead, mouth and nose."
The alleged assault lasted for 20 minutes. Two months later, Chiroodza received a letter of dismissal.
The Civil Service Commission, Chiroodza's former employer, is negotiating an out-of-court settlement with Mugabe.
This is not the first time that Mugabe is facing assault charges – it is also alleged that she attacked model, Gabriella Engels, with an electrical extension cord at a hotel in Johannesburg, South Africa, in August 2017.
Image Credit: Source