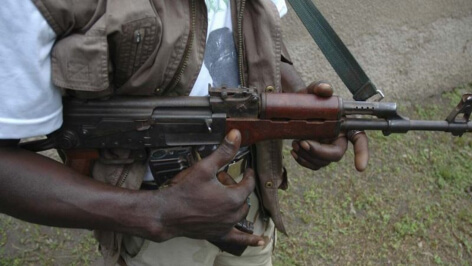 Gunmen Kill 11 Cinema-Goers in Nigeria
A group of gunmen attacked a cinema in Nigeria's Zamfara State on Wednesday evening, killing 11 people and injuring at least 20 more.
According to witnesses, the gunmen arrived earlier that day in the village of Badawara on foot. They were seen heading to the village hall, also known as the viewing centre.
The gunmen then opened fire on residents who had gathered at the hall to watch films.
Hospital sources said that some of the victims' injuries are life-threatening, while the dead have already been buried.
The police said that security personnel have been deployed to track down the gunmen.
The motive behind the attack is currently unclear.
Nearly 400 people have been killed in Zamfara State this year amid an increase in robbery, killings, and kidnappings for ransom, according to the rights group Amnesty International.
Image: Gunmen. [online image] (2018) sourced on 14 September 2018 from https://storage.googleapis.com/thisday-846548948316-wp-data/wp-media/2018/08/2300a121-gunmen.jpg