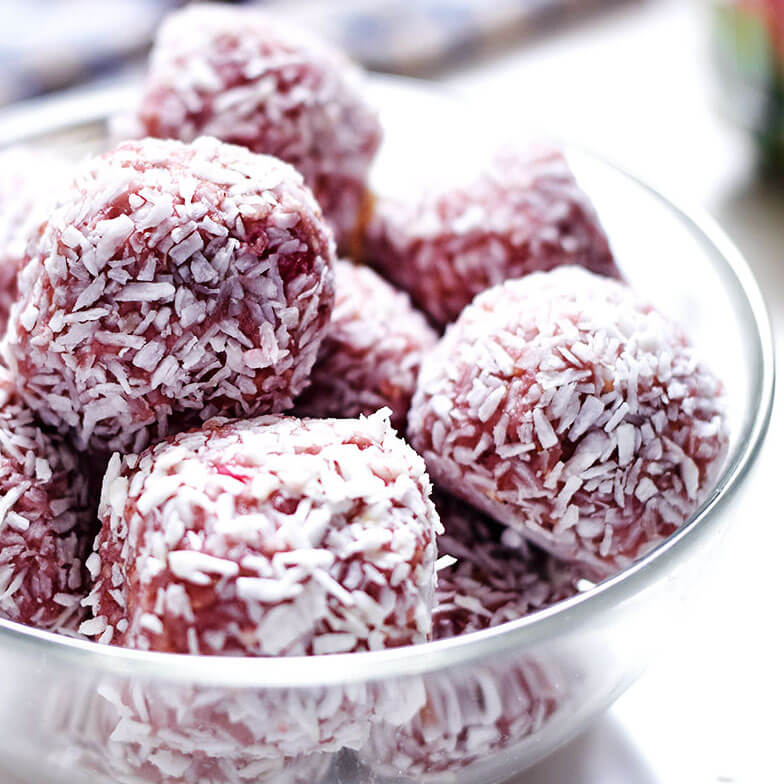 Healthy Snack Recipes
If you're after a delicious, healthy alternative to the usual sugary or fat-filled snack options, here are two great recipes for bite-sized snacks that will satisfy your hunger without the extra calories.
Apple Pie Energy Bites
2 cups rolled oats
1 tsp ground cinnamon
2 tbsp ground flaxseed
1/2 tsp salt
1 tbsp chopped hazelnuts
1 tbsp chopped walnuts
1/2 cup almond butter
1 tsp vanilla essence
2 tbsp honey
1/4 cup unsweetened, dried cranberries
1 cup grated Granny Smith apple tossed with 1 tsp lemon juice
1. Stir together the oats, cinnamon, flaxseed, salt, hazelnuts, and walnuts.
2. In a separate bowl, mix the almond butter, honey and vanilla essence together. Then, add to the oat mixture until fully combined.
3. Add the apples and dried cranberries and mix until blended.
4. Use your hands or a tablespoon to form small balls with the oat and apple mixture.
5. Place the balls in the fridge for an hour to set. You can store the energy bites in your fridge in an airtight container for up to 4 days.
Strawberry Bites
200g ripe, hulled strawberries
1 cup desiccated coconut
3/4 cup rolled oats
2 tbsp white chia seeds
2 tbsp coconut oil
2 1/2 tbsp extra desiccated coconut, to coat the balls
1. Add strawberries to a blender, and blend until smooth.
2. Add remaining ingredients – except the extra coconut – and blend until the mixture is finely chopped and fully combined.
3. Use your hands or a tablespoon to roll the mixture into small balls.
4. Place the extra coconut in a shallow plate, and then roll the balls in the coconut to coat them.
5. Place the balls in the fridge for an hour to set. The bites will keep in an airtight container in the fridge for up to 2 weeks.
Image: Straberry Bites [online image] (2017) sourced on 22 February 2018 from http://www.eatwell101.com/wp-content/uploads/2017/02/Strawberry-Energy-Balls.jpg.