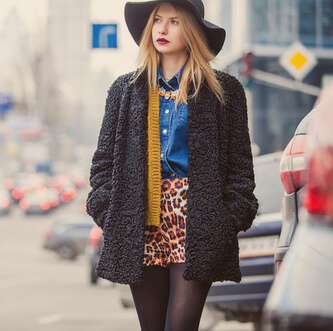 How to Look Stylish in Winter
As summer turns into winter, wearing warm clothes quickly becomes mandatory, but many women tend to run out of cute cold weather attire very quickly.
This just means we need to be a little bit more creative when putting our outfits together.
Here are three simple winter style tips to keep you both warm and chic!
Layer Clothes Like a Pro
Layering is always on-trend in winter. It's not about piling extra layers onto your body, but about adding warmth without looking bulky. The basic rule is to use your thinner garments as the underlayer, and increase the thickness as you add more layers.
Use jackets as your outermost items, avoid colour clashes, and ensure all pieces are appropriately sized so they flow together effortlessly.
Belt Your Coats
Breathe life into your old coats simply by belting them.
Adding a belt to your waist will make your coat seem almost like new, or even transform it into a dress. Don't be afraid to choose an eye-popping belt colour to brighten up any dull, neutral winter shades.
Experiment With Scarves
Add a little va-va-voom to your classic winter outfits. Scarves can work wonders in transforming a winter look from boring to colourful and beautiful.
Scarves can be worn in many more ways than just being wrapped around the neck. Use a scarf as a belt, poncho, or let it fall from the neck in front of your outfit, and then wear a skinny belt over it.