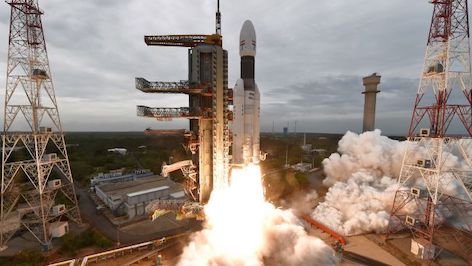 India: Chandrayaan-2 Shoots for the Moon
India recently launched an unmanned spacecraft for a mission to the moon, but the journey will be a slow trek across the stars.
The Indian Space Research Organisation (ISRO) launched Chandrayaan-2 yesterday, 22 July, from the Dhawan Space Centre in Andhra Pradesh. It is expected to reach the lunar surface by 7 September.
Kailasavadivoo Sivan, Chairman of ISRO, excitedly announced: "My dear friends, today is a historical day for space and science technology in India. "
The Chandrayaan-2 rover – the Sanskrit word for "moon-craft" – is designed to explore the aforementioned area of the moon, and carry out experiments on the recently confirmed large amounts of water deposits. The orbiter will also carefully map the lunar surface, whilst studying its atmosphere.
To date, only the US, The Soviet Union/Russia and China have managed landings on the moon, however none have been in the south polar region.
The spacecraft was grounded last week Monday, 15 July, after a fuel leak aborted the mission just under an hour before the originally planned launch time.
Image Credit: Source